During his visit he met Prime Minister Mr. Shahid Khaqan Abbasi, Foreign Minister Mr. Khawja Asif, National Assembly Speaker Mr. Ayyaz Sadiq and Lahore Chamber of Commerce.
Pakistan has a huge potential of the economic growth considering the young population and rich natural resources. As Pakistan's investment environment gets better, more Korean companies will enter into Pakistani market.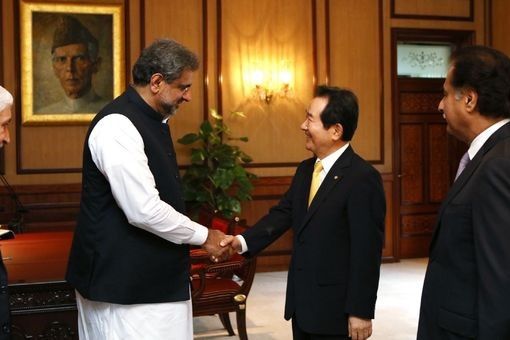 Foreign Minister, Khawaja Muhammad Asif held delegation level talks with Speaker of the National Assembly of Republic of Korea, H.E. Mr. Chung Sye-Kyun and accompanying members of the Korean Parliament, at the Ministry of Foreign Affairs, today. H.E. Mr. Chung Sye-Kyun is on a three day visit to Pakistan, on the invitation of Speaker National Assembly of Pakistan.
During the meeting, both sides discussed cooperation in the areas of mutual interest and agreed to further strengthen cooperation in the fields of economy, trade, investment and manpower. Foreign Minister invited Korean companies to invest in Pakistan. The Korean side was apprised of Pakistan's bid for Nuclear Suppliers Group (NSG) and the need for a criteria-based approach for new members.
The Korean National Assembly Speaker thanked the Foreign Minister for the warm welcome. H.E. Mr. Chung Sye-Kyun appreciated Pakistan's economic growth and expressed desire to further strengthen the bilateral relations.
Sources:
https://www.pakistantoday.com.pk/2017/08/09/pm-invites-south-koreans-to-invest-in-economic-zones/
 http://m.news.naver.com/read.nhn?mode=LSD&mid=sec&sid1=100&oid=421&aid=0002880287
4609http://m.news.naver.com/read.nhn?mode=LSD&mid=sec&sid1=100&oid=001&aid=000982
http://m.news.naver.com/read.nhn?mode=LSD&mid=sec&sid1=100&oid=421&aid=0002880364
http://www.naon.go.kr/content/html/2017/08/d-87c2-4e14-9ce3-7048b10/a8263c0cff16c1.html
http://www.naon.go.kr/content/html/2017/08/09/32e311ef-bbfd-4b69-b493-4a78c0c4d3ea.html
http://www.naon.go.kr/content/html/2017/08/08/204ba6d2-98e7-4b8f-b608-bca7f378da9a.html