All travelers to Pakistan are requested to follow the following guidelines by the Government of Pakistan.
Enter your health information in the "Pass Track App" before boarding.

Use this mobile app to speed up your arrival process in Pakistan and spend less time with immigration and public health officers. Submit your information easily and securely using the app within 48 hours before arriving in Pakistan. The app helps you to:

Provide mandatory information that's required for entry into Pakistan
Reduce your wait time and points of contact at the airport
Provide the Government of Pakistan with voluntary updates and the development of any symptoms during the 14 days after arriving in Pakistan.
Download the Pass Track app (iOS, Android or web format). Make sure you have the official version by downloading it here.
If passengers do not have a smart phone, they will need to fill the Health Declaration Forms (HDF) prior to boarding.
You are requested to follow the instructions of the ground staff and written displayed instructions.
Please move in que keeping 2 meters distance and wait for your turn.
On your turn, you will be asked to show your phone with downloaded "Pass Track App" and proof of negative SARS-COV-2 RT-PCR test (does not apply to Korean nationals).
Your body temperature will be checked by Health Authorities using Thermoguns and/Infrared Fever Scanner.

Traveler detected with fever shall be marked, supervisor will be informed immediately and shall be taken to Health Counter
Travelers with no fever shall go through process as such after providing RT-PCR test results if coming from category B country. (does not apply to Korean nationals)

Passengers from Korea are exempted from providing RT-PCR test. However, passengers if found to have COVID symptoms, when screened at the port of arrival by Pakistani authorities, will be required to have a COVID 19 RT PCR test conducted. The results are submitted to the designated authorities. within 48 hours of their arrival. Contact details of such suspected cases will be acquired by port authorities, and information about test report submission process will be provided to such suspected cases before they leave the airport.
Such suspected cases (based on screening at the port/point of Entry) are not required to be retained/quarantined by the authorities at the time of disembarkation, and can proceed to their destination.
In instances where the test is found to be negative, they do not need to be isolated at their respective homes/place of visit; however, in case of a positive RT-PCR result, such cases would be required to self-isolate as per the guidelines for positive cases and isolation procedures. Furthermore, the contacts of positive case need to self-quarantine in accordance to the guidelines for self-quarantine.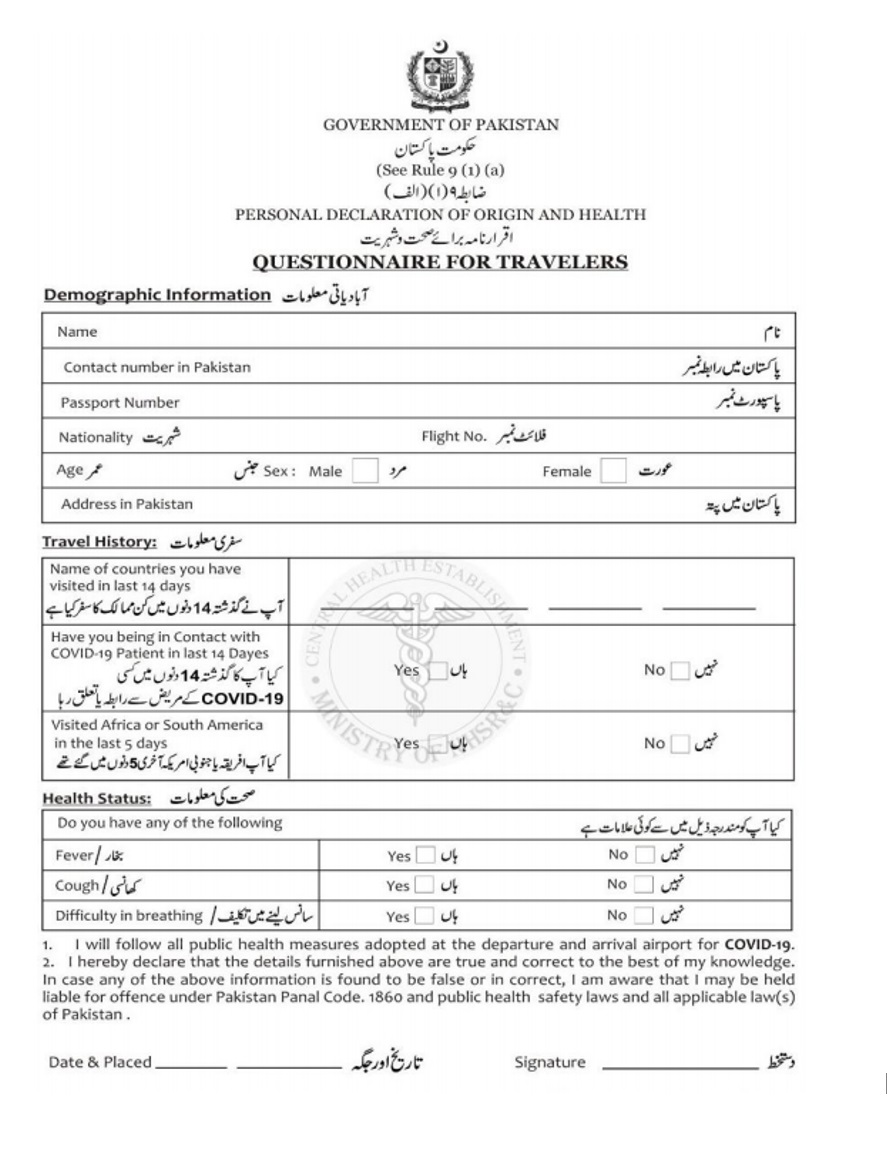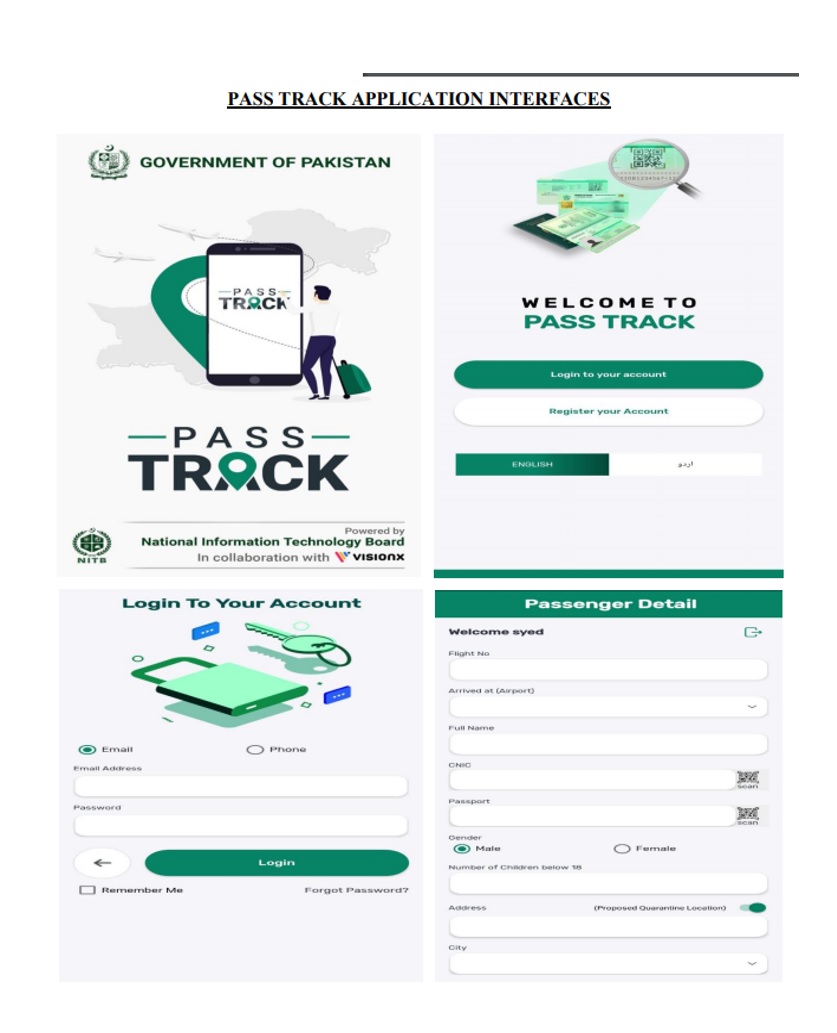 Google Link of App:
https://play.google.com/store/apps/details?id=com.passtrack.nitb.gov.pk&hl=en